We Dig with Care & Attention to Detail
When you have drain problems or sewage line issues in Victoria & surrounding communities, it's time to call in the drain excavation pros. While digging a drain or sewer line is an invasive project, the experts at Drain Pro are adept at repairing or replacing the lines with professional drain excavation undertaken with great care. We ensure that our drain repair & replacement pros are equipped with the latest tools, equipment and know-how to promptly and effectively deal with a wide range of plumbing excavation projects.
Our experience with drain excavation in Victoria, Saanich & the Western Shore means you're getting the job done right, keeping your property looking good and your home functioning at its best.
Countless Reasons You Can Trust Us
Locally Owned & Operated
We're happy to live here, proudly serving Victoria, Saanich & the Western Communities with dedication & integrity
Licensed, Bonded & Insured
You'll have peace of mind when Drain Pro is on site working at your residence or commercial property
All Work Guaranteed
At Drain Pro we stand behind the work we perform, committed to your 100% complete satisfaction
Fast Service 24/7
We know that plumbing needs can be urgent; that's why we offer around-the-clock service, 7 days a week
Hourly Rate Pricing
Nobody wants an unpleasant surprise, be it plumbing or pricing. That's why we're transparent in our quotes
Exceptional Customer Service
We treat customers the same way we'd treat friends or family, with respect and dedication to serve & to help
Our Proven Drain Excavation Process
The first thing we do is investigate the source of the drain or sewer line blockage. In many cases, we can make repairs without having to dig. For more extreme blocks that are further down the line, however, drain excavation becomes necessary. We'll give you a transparent quote that reflects full value for our professional, experienced drain excavation work. This includes taking the time to find & avoid any buried cables, lines, etc.; and to do excavation work & clean-up that leaves as small a footprint as possible.
Our Victoria drain excavation teams have the knowledge & skills required to help keep your costs down and deliver a safe, thorough & effective result that will keep your drains flowing for years to come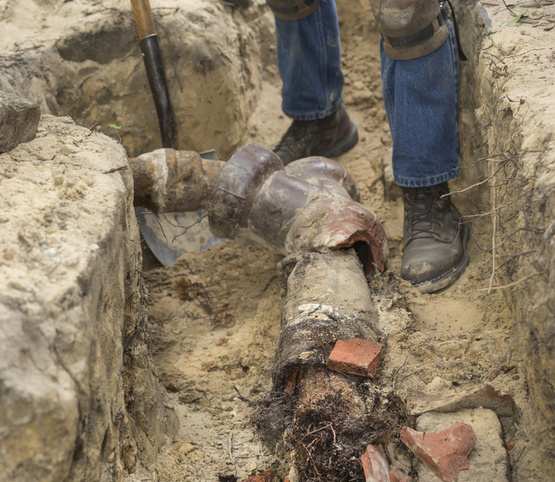 Signs That Excavation May Be Required
Indicators that your drain may require excavation includes multiple slow drains in the building, sewer smell from your sink and toilets as well as soil dissipation around your sewer lines causing sink holes and indentations. Another sign of sewer lines leaking into your yard is lush green patches of grass and potions of grass which look to be getting a lot more nutrients.
The sewer line material, the condition of the soil, tree roots and  blockages are a few of the many reasons that drain excavation may be required. Blockages are mostly caused from accumulation of food and grease, foreign objects such as toys as well as flushing hygiene products down the toilet.  Preventive household measures can be practiced to avoid sewer blockages and save on repairs.
Drain Excavations require expertise and experience, which is why our excavation team at Drain Pro Plumbing Victoria are perfectly equipped to help you get the best results and value for money.
Trenchless Excavation at Drain Pro
Trenchless excavation is a technique used by Drain Pro to install or replace utility lines, without the need to excavate a trench. We utilise a directional drilling machine, that has the capability of laterally exerting a tremendous pushing pressure on a drill bit, which excavates a boring hole, that will accept a utility line.
At Drain Pro, we understand that the ability to install utilities without the need to open trenches is understandably important. The use of trenchless excavation is a growing industry, and our equipment, expertise and experience put us at the forefront. We also repair existing utility lines by pulling a new flexible synthetic line through it. This method is used to replace water and sewer lines in Victoria and surrounding areas.
At Drain Pro Victoria, we offer a satisfaction guarantee that is unmatched. We examine all trenchless excavation services by inspecting the line with a camera. Once the camera has confirmed a proper coating has been installed and there are no compromises, the line is returned to full service. Contact us today.
Drain Pro Client Testimonials
Frequently Asked Questions
Schedule Your Service With Drain Pro Today!
Email
Address
831 SHAMROCK STREET
VICTORIA, BC V8X 2V1